March 24, 2020 to March 27, 2020
NIH Campus- Bethesda, Maryland
Registration occurs on a first-come, first-served basis. The deadline for registration is one week before the first day of the course.  If you are unable to register before the deadline, please email: training@faes.org or call 301-496-7977 for space availability.
NIH Fellows or NIH community members being sponsored by their lab can enroll tentatively, using the Contract: SF-182 option on the workshop's registration site while waiting for authorization of payment. Enrollment is not guaranteed until payment is received.
Super Resolution Microscopy represents a group of recently developed light microscopic techniques that are able to exceed diffraction-limited resolution (less than 200nm). This course will focus on three types of Super Resolution Microscopy- Structured Illumination Microscopy (SIM), Stochastic Optical Reconstruction Microscopy (STORM), and Stimulated Emission Depletion (STED).  In addition, students will be exposed to cutting-edge super resolution microscopes developed at HHMI Janelia Research Center through the AIC (Advanced Imaging Center).  The AIC will showcase several instruments, including iPALM, lattice light sheet and live-cell TIRF-SIM.  
The course is designed for cell biologists with prior experience in light microscopy who wish to add super resolution microscopy to their research program. Participants will acquire both theoretical understanding of super resolution microscopy and practical experience using state-of-the-art super resolution microscopes.
Lecture Topics
Introduction to Super Resolution Microscopy; Advances in Super Resolution Microscopy; Theoretical Background of SIM, PALM/dSTORM, and STED Imaging; Advances in Fluorescent Protein and Organic Dye Technology; Applications of Super Resolution Microscopy using SIM and dSTORM; Challenges Associated with Obtaining Good SIM, STORM and STED Images; Potential Artifacts Common to Super Resolution Imaging.
Laboratory Topics
Working in groups of five, participants will rotate through multiple work stations. 
The following work stations are located on NIH campus: 
- Leica gSTED, GE- OMX SIM, Nikon N-STORM, Zeiss Elyra PALM/SIM, Zeiss LSM880-AiryScan, Shroff Lab - Instant SIM, Shroff Lab - Dual View Plane Illumination Microscope.  
Another three stations are located on Janelia Farm campus including iPALM, Lattice light sheet microscope, TIRF-SIM for live cell imaging.  Complimentary transportation will be provided to and from the Janelia Farm campus.  
During the laboratory sessions, the following topics will be covered:
-   Introduction and Feature Highlights of the Instrument
-   Imaging Acquisition Procedures 
-   Sample Preparation Requirements and Recommendations (Dye Choices and Imaging Solutions)
-   Imaging Data Analysis and Presentation
-   Trouble-shoot Common Problems in SIM Imaging
-   Acquisition of 2D and 3D STORM Images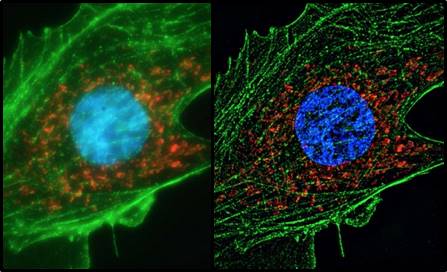 Credit
Although no grades are given for courses, each participant will receive Continuing Education Units (CEUs) based on the number of contact hours.   One CEU is equal to ten contact hours. Upon completion of the course each participant will receive a certificate, showing completion of the workshop and 2.8 CEUs.
General Training Rate
$1,350.00
Discounted Training Rates
$750.00 - NIH Trainees (Fellows, Postdocs, Postbacs working at the NIH Campus)
$1,050.00 - NIH Community (Working, Assigned or Appointed to the NIH Campus)
$1,150.00 - Academia, US Government, US Military
Refund Policy
100% tuition refund for registrations cancelled 14 or more calendar days prior to the start of the workshop.
50% tuition refund for registrations cancelled between 4 to 13 calendar days prior to the start of the workshop.
No refund will be issued for registrations cancelled 3 calendar days or less prior to the start of the workshop.
Notification
All cancellations must be received in writing via email to Ms. Carline Coote at registration@faes.org.
Cancellations received after 4:00 pm (ET) on business days or received on non-business days are time marked for the following business day. 
All refund payments will be processed by the start of the initial workshop.
Suggested Accommodation:
A special rate is available to all BioTech Workshop attendees. This includes complimentary continental breakfast, guest room Wi-Fi and discounted $15 parking per night. Hotel is within walking distance of the training facility   Reservations can be made online, see below. 
Bookmark/Search this post with