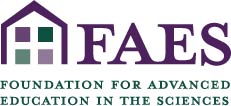 General Fund: support FAES programs and operations.
Real Estate Fund: support FAES efforts to expand affordable housing for NIH Researchers and Fellows.
Music and Art Programs: support musical performances by the National Symphony Orchestra, Manchester String Quartet and the University of Maryland Jazz Quartet.
Scholarships: support education for NIH researchers.
Berger Memorial Fund: support ongoing efforts of the NIH History Office in honor of Dr. Robert Berger.
A copy of the current financial statement of FAES is available by writing 10 Center Drive, Room 1N241 – MSC 1115, Bethesda, MD 20892-1115 or by calling (301) 594-8985. Documents and information submitted under the Maryland Solicitations Act are also available, for the cost of postage and copies, from the Maryland Secretary of State, State House, Annapolis MD 21401, (410) 974-5534.
(FAES EIN 52-0743814)