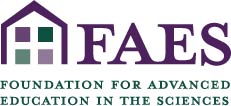 Donating to FAES helps thousands of people every year by supporting educational, professional, and cultural initiatives. FAES programs complement the work of NIH in accomplishing its mission of research and training in the biomedical sciences. 
 
FAES was established in 1959 by 11 NIH scientists, one of whom was American Biochemist and 1972 Nobel Laureate Christian B. Anfinsen, to facilitate a collegial environment and provide educational and professional services. Since our founding, FAES has educated over 40,000 people and continues to expand and customize educational opportunities for the community.
 
Today, we offer nearly 200 academic courses and biotechnology lab technique workshops, run a series of management and leadership training classes in a variety of disciplines, and provide scholarships for dozens of students each year. We also provide sponsorships for musical performances, full-service conference management services for members of the NIH community and affiliated organizations, and have limited support for fellow housing. 
 
Support the future of biomedical education by donating to FAES.