May 4, 2020 to May 8, 2020
NIH Campus- Bethesda, Maryland
This workshop will review strategies for hydrodynamic and thermodynamic analysis of sedimentation equilibrium and sedimentation velocity analytical ultracentrifugation (AUC), dynamic light scattering (DLS), small angle scattering (SAX), isothermal titration calorimetry (ITC), surface plasmon resonance (SPR), circular dichroism (CD), and fluorescence spectroscopy for the characterization of biological macromolecules in solution.
NIH Fellows or NIH community members being sponsored by their lab can enroll tentatively, using the Contract: SF-182 option on the workshop's registration site while waiting for authorization of payment. Enrollment is not guaranteed until payment is received.
The workshop will start on Monday morning at 8:30 a.m. and end on Friday at 5:00 p.m. On the first day, we will provide an introduction into the experimental aspects of AUC, DLS and ITC. This part will take place in the laboratory. We will review the basic operation of the instruments, choice of buffers, and detection systems, and experimental design dependent on the system under study.
For AUC, assembling the AUC cells and operating the XLA/I will be discussed in detail. The following days will cover many advanced topics of theory, data analysis and experimental setup. These lectures are accompanied by practical computer exercises with the software.
 An integral part of the workshop is the presentation by the participants of their systems of interest and informal discussion of data.
Target Audience
The workshop is aimed at researchers with at least limited experience in AUC, DLS, ITC, CD, and/or fluorescence techniques for characterizing biomacromolecules.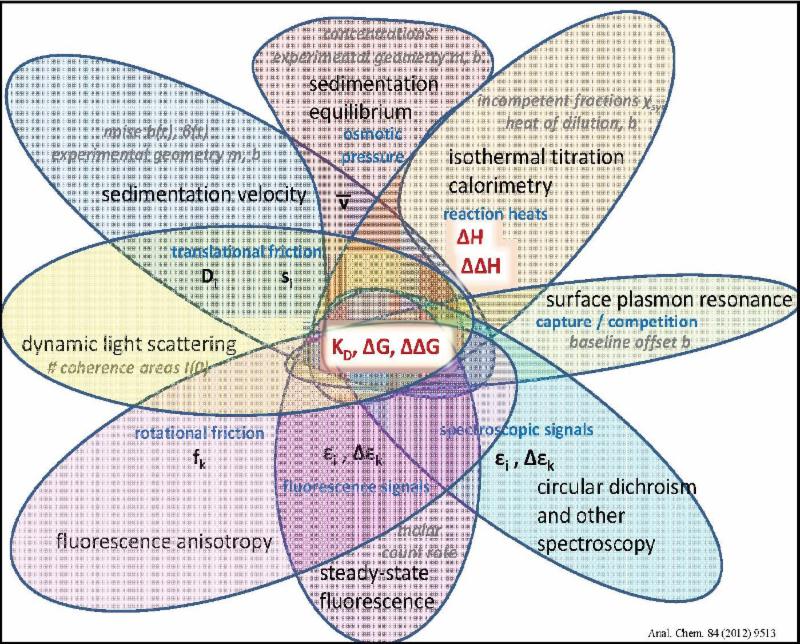 Faculty
Chad Brautigam, Ph.D.
Department of Biophysics, UTSW Medical Center, Dallas, Texas
Rodolfo Ghirlando, Ph.D.
Laboratory of Molecular Biology, NIDDK, NIH
Alexander Grishaev, Ph.D.
UMD/NIST Institute for Bioscience & Biotechnology Research
Grzegorz Piszczek, Ph.D.
Biophysics Core, NHLBI, NIH
Peter Schuck, Ph.D.
Dynamics of Macromolecular Assembly Section, LCIMB, NIBIB, NIH
Huaying Zhao, Ph.D.
Dynamics of Macromolecular Assembly Section, LCIMB, NIBIB, NIH
Stehpen Harding, Ph.D.
National Centre for Macromolecular Hydrodynamics at the University of Nottingham
Registration Fees
$1,942 - Industry Participants OR $3,292 with Hotel Accommodations*
(Pharmaceutical, Analytical and Commercial affiliate employees)
$1,155 - Academic Participants OR $2,505 with Hotel Accommodations*
(PI's, Professors, Staff Scientists, etc.)
$840 - Active Student Participants OR $2,190 with Hotel Accommodations*
(Ph.D. Students, PostDocs, PostBacs, Fellows, IRTAs pending graduate or medical school)  
Proof of documentation may be requested.
Registration fee includes a daily continental breakfast with coffees and teas, lunch, and afternoon coffee break, and a textbook. 
*Hotel Accommodations are at the Marriott's Residence Inn in Bethesda. 
Check-In: Sunday, 5/3/20; Check-Out: Friday, 5/8/20
Please note, if you selected the "Hotel Accommodations" rate, please do not book a reservation at the Marriott Residence Inn. FAES will make a reservation on your behalf. A confirmation will be sent to you 7 to 10 days prior to the workshop. The hotel link is for informational purposes.
The "Accommodations" rate covers the nights of Sunday, May 3, 2020 through Thursday, May 7, 2020 (check-out on Friday, May 8, 2020).
Cancellations and Refunds
Full refunds will be issued for all cancellations received in writing on or before April 6, 2020. Please contact Carline Coote at (301) 496-7977 or via email, registration@faes.org, if you wish to cancel your registration. No refunds will be issued after April 6, 2020.  
SaveSave
Bookmark/Search this post with