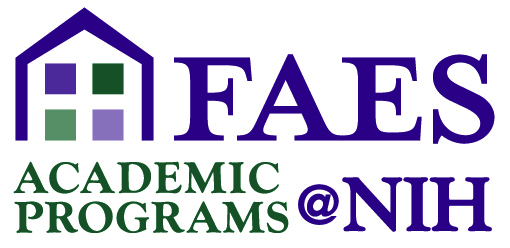 Master's of Professional Studies (MPS) in
Data Science Fellowship Application
Welcome to the CARD/FAES/UMBC application portal for the MPS in Data Science Fellowship Program. This portal is maintained by FAES in cooperation with
the Center for Alzheimer's Disease and Related Dementias (CARD).
The Fellowship has been placed on a temporary hold. Please visit the website later for further updates.    
Now accepting Cohort I applications for the August 2021 semester start.
CARD/FAES Application Deadline: TBD
(please refer to the timeline below for additional important dates)
The newly formed Center for Alzheimer's Disease and Related Dementias (CARD) at the National Institutes of Health (NIH), National Institute on Aging (NIA) is offering a unique, high-quality master's level fellowship program to enable healthcare researchers to grow their data science skills. The goal of this program is to cultivate the next generation of data science and bioinformatics professionals at NIH and beyond. Fellowship awardees will gain foundational knowledge in data analysis and data management through collaborative online instruction and direct consultation with experts in the field. Beyond the coursework, fellows will have the opportunity to utilize and refine new skills they have learned working with real data curated at the CARD.
Three application cohorts will be administered over the course of three years, each with a Fall semester start - in 2021 (Cohort I), 2022 (Cohort II), and 2023 (Cohort III). Application dates for Cohorts II and III will be posted in Spring of the corresponding year.
To learn more about the MPS in Data Science,
please join us for a Virtual Information Session:
FELLOWSHIP OVERVIEW
U.S. Citizens or U.S. Permanent Residents: Selected candidates will receive a full-time Intramural Research Training Award (IRTA) Student (Academic) Fellowship to work at the CARD for a total of two consecutive years. During this time, selected candidates will get trained in data analysis while studying the MPS degree. The fellowship will cover all costs of the MPS degree, including a paid stipend while working at CARD. If a student does not receive a fellowship but is admitted to the MPS degree program, they have the option to pursue the degree and pay for it themselves.
Candidates with no intention of working at CARD are not eligible for the fellowship. However, if interested in doing the MPS, apply at UMBC. 
The program is a 30-credit professional graduate degree that requires 30 credit hours with a mandated minimum GPA of at least 3.0. This two-year degree program will allow qualified students who take specified FAES Data Science and Bioinformatics courses to transfer up to 15 credits to UMBC's MPS in Data Science. The master's degree will be earned in two consecutive years. All courses will be taught by highly experienced data science professionals.
 
FELLOWSHIP ELIGIBILITY AND ADMISSION REQUIREMENTS
Combined CARD/FAES and UMBC Admission Requirements:
1.  NIA Policy for Appointment of Student (Academic) IRTAs
Applicants must be a U.S. citizen or U.S. permanent resident.
Applicants must have the ability to train virtually and at the NIH campus located in Bethesda, MD.
Initial stipend is based on the number of years of experience at the start of the traineeship.
Stipend advances are not provided.
2.  MPS degree application requirements
Bachelor's degree in any subject with a GPA of 3.0 or higher; preferably in computation or biomedical field
Applicants must have completed at least one college-level math, statistics, and programming course. This requirement can be substituted for equivalent professional experience or through online training academies.
Online Application
Transcripts from each college/university attended (undergraduate and graduate)
CV or Resume
Statement of Purpose
Two (2) recommendation letters (provide names and contact information of two individuals whom we can contact for letters of recommendation; applicants are responsible for ensuring letters are submitted before the application closing date)
English proficiency scores (not required for the fellowship but may be required for admission to the UMBC degree program)
GRE scores are not required for admission
Please visit UMBC's Master's of Professional Studies: Data Science Program for specific information on degree requirements.
For FAES Course Policies, please consult the FAES Academic Programs website.
 
TIMELINE FOR FALL 2021 SEMESTER START
CARD/FAES Application Closes:  TBD
UMBC Fellowship Application Closes:  June 7, 2021
UMBC Admission Notifications:  no later than June 25, 2021
Fellowship Award Notifications:  no later than July 6, 2021
UMBC Fall 2021 Course Registration Deadline:  August 1, 2021 (register early, courses fill quickly)
FAES Fall 2021 Course Registration Deadline:  August 27, 2021 (register early, courses fill quickly)
UMBC Falll 2021Semester Begins:  August 31, 2021
FAES Fall 2021 Semester Begins:  August 30, 2021
 
APPLICATION PROCESS
Eligible and interested applicants must apply for the fellowship first through FAES using the online application portal below, then apply to UMBC. A special code waiving UMBC's admission fee will be emailed once receipt of the FAES application has been confirmed.
Please review all application requirements and have your supporting documentation with approved contacts for letters of recommendation ready in advance of applying. Otherwise, save your progress and return later to complete the application.
To receive fellowship consideration, required information and supporting documentation​ must be submitted to FAES by midnight EDT, May 25, 2021. Similar documentation may be required for UMBC's application due by midnight EDT, June 7, 2021, and must be submitted separately from the documents requested here. 
Potential candidate interviews will be conducted virtually by NIA/CARD staff before fellowship awards are announced. Applicants selected for admission to the fellowship will be contacted by FAES. Admission decisions for the fellowship are made by CARD/FAES/UMBC data science staff.
 
QUESTIONS AND ASSISTANCE
Fellowship eligibility and requirements:
FAES application portal, courses, and fellowship status updates:
301-496-7976
UMBC application, admission, and courses:
Karina Jenkins, Graduate Program Manager, Jenkinsk@umbc.edu
Dustin Hodgson, Director, Dustin@umbc.edu
To learn more about the MPS in Data Science,
please join us for a Virtual Information Session: