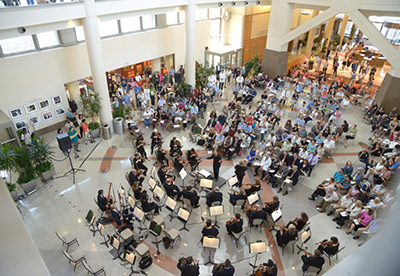 FAES funds several musical performances for the NIH community including a concert series by the Manchester String Quartet, the National Symphony Orchestra, the UMD Quintet, and recently began contributing resources to the notable NIH Philharmonia, an all-volunteer organization founded for the purpose of bringing together the dedicated musical talent of NIH researchers and federal workers. FAES currently presents approximately 12 events per year. For more information about our musical and cultural events please see below.
Manchester String Quartet Concert Series
2018/2019 20th Century
Manchester String Quartet
Hyun-Woo Kim, violin; Marissa Regni, violin; Abigail Kreuzer, viola; Glenn Garlick, cello.
Guest Artists: Heather Le Doux Green, violin; Alexandra Osborne, violin; Eric de Waardt, viola; David Hardy, cello; Loren Kitt, clarinet.
This concert series is supported by the Foundation for Advanced Education in the Sciences at NIH. All concerts are free and begin at 12:30pm in the Masur Auditorium, Building 10, NIH Medical Center. For further information, contact the NIH Vistor Information Center (VIC) 301-496-1776.
Haydn Opus 20#4 (#77) Opus 76#4 #Sunrise" (#26)
Mozart "Dissonance" (#12) "Hunt" (#28)
Beethoven 59#3 (#29)
Schubert "Trout" Quintet (#1)
Bartok Quartet #4 (#20)
Brahms Clarinet Quintet (#4)
Dvorak "American" Quartet
Brahms Piano Quartet in G Minor (#18)
For reasonable accommodation, contact Sharon Greenwell at (301) 496-4713 or email sg115f@nih.gov.
National Symphony Orchestra at NIH
FAES proudly sponsors regular visits to the NIH by the National Symphony Orchestra as part of the NSO Sound Initiative, which brings orchestral music to area hospitals and medical centers. Hundreds of NIH staff, patients and visitors gather for the performances. Limited seating is available on the 1st floor of the atrium, with additional viewing available on the 2nd-7th floors. All concerts are free and begin at 1:30pm.
UMD Jazz Quintet
The Quintet includes Chris Vadala, saxophone and flute; Gerry Kunkel, guitar; John Previti, acourstic bass; Griffith Kazmierczak, trumpet; and Joey Antico, drums. The group will perform a mix of familiar jass standards and original compositions. 
Music flows in all our corridors, into patient wards, reaching those in beds who cannot come.

-CC Director, Dr. John Gallin